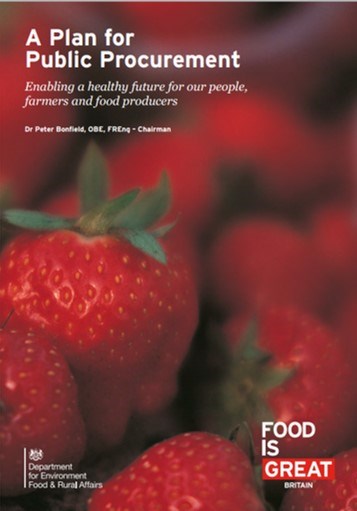 DEFRA
Posted 15/09/2014
Framework for excellent food procurement
The Government's Plan for Public Procurement, launched by DEFRA, sets out to improve public sector food procurement to maximise the nation's health, boost support for a competitive UK food & farming sector, and deliver the best value per pound spent. It seeks to achieve consistent standards for all food procured by Central Government departments, as well as providing best practice recommendations for food providers and procurers who want to further commit to serving good food.
A 'Balanced Scorecard' has been introduced which embraces the key elements required for excellent procurement of food. This includes price, production, health and wellbeing, resource efficiency, socio-economic factors and quality of service. The balanced scorecard makes the process of tendering and competing for contracts clearer.
The Food for Life Catering Mark is recognised as a tool for caterers who wish to guarantee a good or excellent performance against the award criteria in the balanced scorecard. The Catering Mark Standards incorporate many of the Plan's recommendations and can provide caterers with a framework to achieve these.